PORTMONE CARD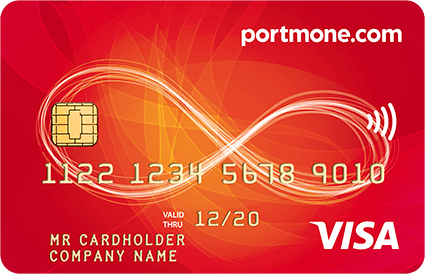 order
Universal payment tool, created specifically for PORTMONE portal clients.
BENEFITS AND OPPORTUNITIES
GSM-BANKING
Automatic informing about the financial transactions carried out, which allows you to receive information about the movement of money via SMS messages to your mobile phone, is automatically connected when the package is registered.
Using the card you will be able to carry out any regular purchases, including on the Internet

FREE internet banking FREEBANK
The modern Internet banking system FreeBank allows you to make financial transactions from your own computer, tablet or smartphone without visiting the bank's branch 24 hours a day, 7 days a week.
The services are available to you:
Payment of utility bills;
Replenishment of mobile phone account;
Transfer of funds to any accounts;
Regular operations with accounts;
Repayment of credit debt;
Obtaining information on the status of card accounts, loans, deposits;
Opening and replenishment of deposit accounts, etc.
How to connect?
The service is automatically connected when registering a package of services. After registering with the FreeBank system, your mobile phone will receive a password, after which you need to enter the FreeBank system and replace it with your own.
Don't forget about safety
In order to ensure reliable storage of information, FreeBank provides such means of access:
Login - your mobile phone number, which allows you to identify the user;
The password is a secret character set known only to you. It's used to log into the system;
SMS-code is a one-time numeric code used to confirm a payment transaction, which will be sent to your mobile phone as a text message.
FREE registration and maintenance of Visa REWARDS (PORTMONE) payment card
Everyone who wants to get a Visa REWARDS card has a unique opportunity to do it for free. To do this, you need to order a Visa REWARDS (PORTMONE) card through the PORTMONE payment portal.
Additional features of the PORTMONE card
PORTMONE card - provides additional features for using services on the Portmone.com payment portal, such as:
FREE OF CHARGE:
Payment of utility bills, Internet services, television, telephony, security;
Payment for mobile services;
Payment for arbitrary requisites;
Payments by the budget;
Payment of distribution services;
Prepayment of periodicals;
Payment of insurance services;
Transfer of funds from the PORTMONE card to the PORTMONE card;
Replenishment of the PORTMONE card by any bank of Ukraine.