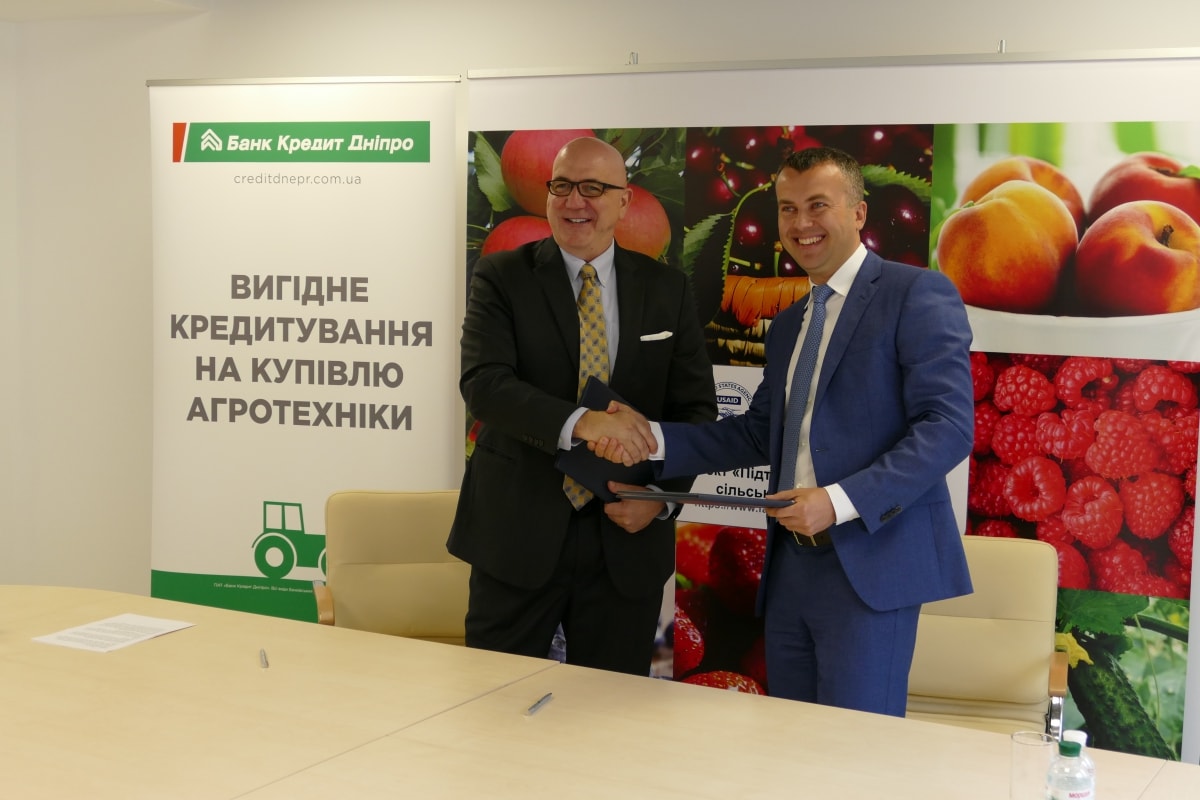 The 7th anniversary of the Memorandum on Sponsored by the Bank Credit Dnipro and the flagship project of the United States Agency for International Development (USAID) from the sector of agro-industrial development in Ukraine - "Agrarian Aid of Sector and Promotional Development in Ukraine -" Aid of Agrarian Newspaper and "Red Identity", I will use my hands and I will pay for this issue.
Under the auspices of the world of the rozvitku agroinfrastrukturi. Otzhe, the project є one іz skladnikіv іnіtsіtivi project USAID "The Triumph of the Agrarian
"Agronaphy" - І for us, it is a great honor to rotate through the USAID project. Likewise, the great partners of our partner allow us to achieve synergies and realizations of important projects, which are located on the basis of the Ukrainian Agrarians ".
In the framework of the partner partners, they will spend gray on the primary sesies for the malikh and middle agrovirobniki, and also follow up on the relevant informatization on the search for financial and investment projects for real estate baznes-zavdan. Tsei Budey Bank of the Day -milk products.
Patrick Reider, USAID Project Manager "Agrarian and Social Development" project, to the Memorandum saying: "The Agropromyslovy Complex of Ukraine is one of the most promising in St. Petersburg. If you are interested in your potential, you can not respect the great culture of our children, who have already implemented realizations, skills of small cultures and cultures, go to the world of culture, reorganization of culture, culture, culture, culture and art Me sposterіgaєmo, from one side, pickings is drunk on the sub-product on Ukrainian, and from the other market, the other on the other hand, on the other hand, access of such businesses to the end of the campaign is available to those who have access to such resources, and such access to such resources, to those who have access to such resources, to those who have access to such personalities, to those who have access to such resources, to those who have access to such personalities, to those who have access Our project to help out Malim and the Middle Eastern Company in the area of ​​business, which is as competitive as possible through the development of new technologies, the development of marketing lantsyuzhkiv, securing a pleasant regulatory medium, as a result, and a reason to apply, and we will have to go to a place where we can find a way to achieve a better regulatory environment, and we have a reason to go and have a way to do it. We would be happy to know one thing in a special Bank of the Credit Dnipro, our special needs of the small and medium agribusiness in Ukraine. Upevneni, sci-spilnyy project to help Ukrainian Malim and Middle Agrarian Companies and Farmers are More Successful and Productive. "