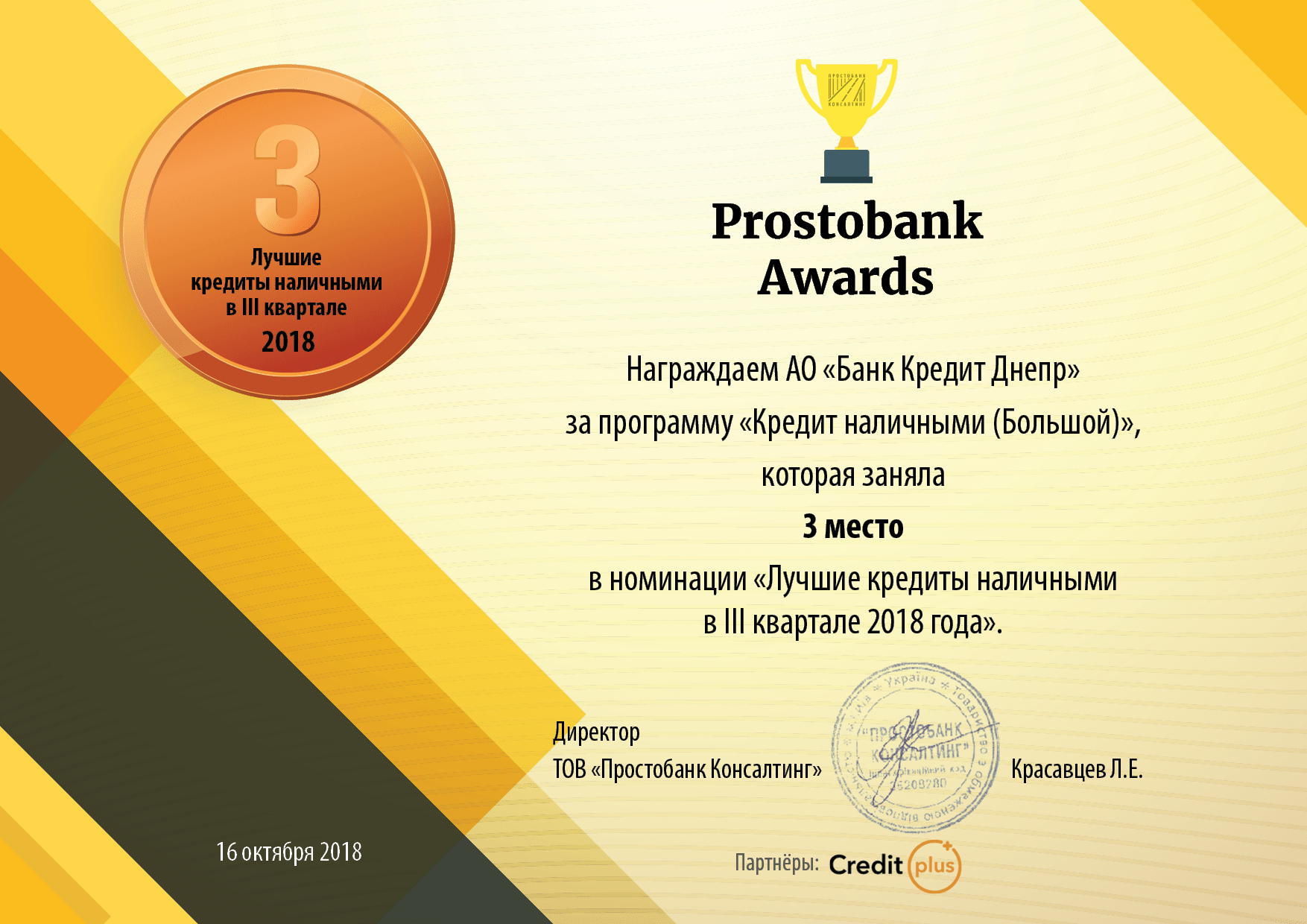 Credit Dnepr Bank has become the number one leader in the
rating
of the best cash loans for retail clients of Prostobank Consulting company among the top 40 Ukrainian financial institutions for the third quarter of 2018.
The following parameters were taken into account when compiling the ranking of the best cash loans: the real lending rate - the nominal rate, adjusted for one-time, monthly commission and insurance, the maximum amount and term of lending, terms of early repayment, the need to provide a certificate of income, the form of repayment of arrears . As a result, the product "Credit in cash" of the Bank Credit Dnepr entered the top three winners, typing 86 points out of 100 possible.
"Our loan offers for retail clients not only hold the leading positions in authoritative expert ratings, but also enjoy increasing popularity among the clients," said Oleksandr Stetsko, Head of the Department for Development of Products and Projects for Retail Banking, Kredit Dnepr. - In our bank, cash loans for any purpose without collateral and bail can be arranged simply and quickly, by contacting the nearest branch, information and consulting center or by making an application through the Internet or a contact center. The loan amount is up to 300 thousand hryvnia, while the client chooses the optimal loan term - from 12 to 60 months, taking into account his financial plans and opportunities. The interest rate is one of the best on the market. Customers are offered a wide range of redemption channels and the possibility of early repayment of credit indebtedness without any penalties. Due to the advantageous transparent terms of lending and high standards of servicing, the cache portfolio increased by 2.6 times in 9 months of 2018, and we have no intention to reduce the turnaround. "
The expert recalled that in order to popularize cash loans, the bank, by December 31, is conducting a "Television for a loan"
campaign
, under which all customers who have drawn up loans in cash from 30 to 50 thousand UAH will receive a gift card that can be exchanged for the modern TV in the trading network of the largest national retailer of home appliances and electronics "Eldorado", and invited existing and new customers to take advantage of the promotional offer for even more profitable solving their financial tasks.
More information about retail credit offers of Bank Dnipro Credit can be found at the
link
.