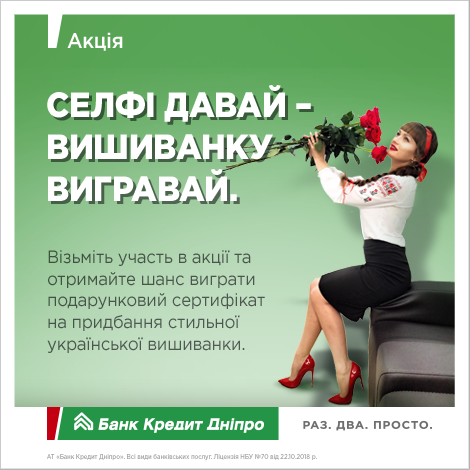 Credit Dnepr Bank joins the World Emblem Day celebrations and holds a traditional contest on the
page
of the financial institution on the Facebook network for all those who appreciate the national Ukrainian outfit. The three winners of the contest will receive gift certificates for 1000 UAH each for the purchase of a stylish embroidered vest in a modern Ukrainian clothing store.
To participate in the prize draw it is enough to subscribe to the bank page in Facebook, add in the commentary to the
post
about the contest itself in any dress with elements of Ukrainian symbols and the hashtag of the location, for example, # Kiev, and also to share the post in the tape.
"The Bank regularly holds a variety of thematic promotions for our current and future clients on our Facebook page," said Tatiana Yaroshenko, Corporate Communications Director at Bank Credit Dnepr Bank. - The World Embroidery Day is an excellent promotion of Ukrainian national values, and our employees are their active promoters, every year taking part in parchments of embroidery at their workplaces. This year we do not specifically limit the dress code of the participants of the contest, giving the opportunity to those who do not currently have embroidery, to become her happy owner. We want to involve everyone in the beautiful ethnic flashmob, so that our national traditions are developed and multiplied. "
The winners of the competition will be determined using
random.org
service among all the participants who fulfilled its conditions on May 20, 2019, on the Day of Bank Employees of Ukraine.