Credit Dnepr Bank held the October draw of the prize money within the campaign "Money for cars".
Nadezhda Evin from Dnipro, who issued a cash loan in September, became the third lucky owner of $ 300,000 thanks to  Random.org impartial service selection.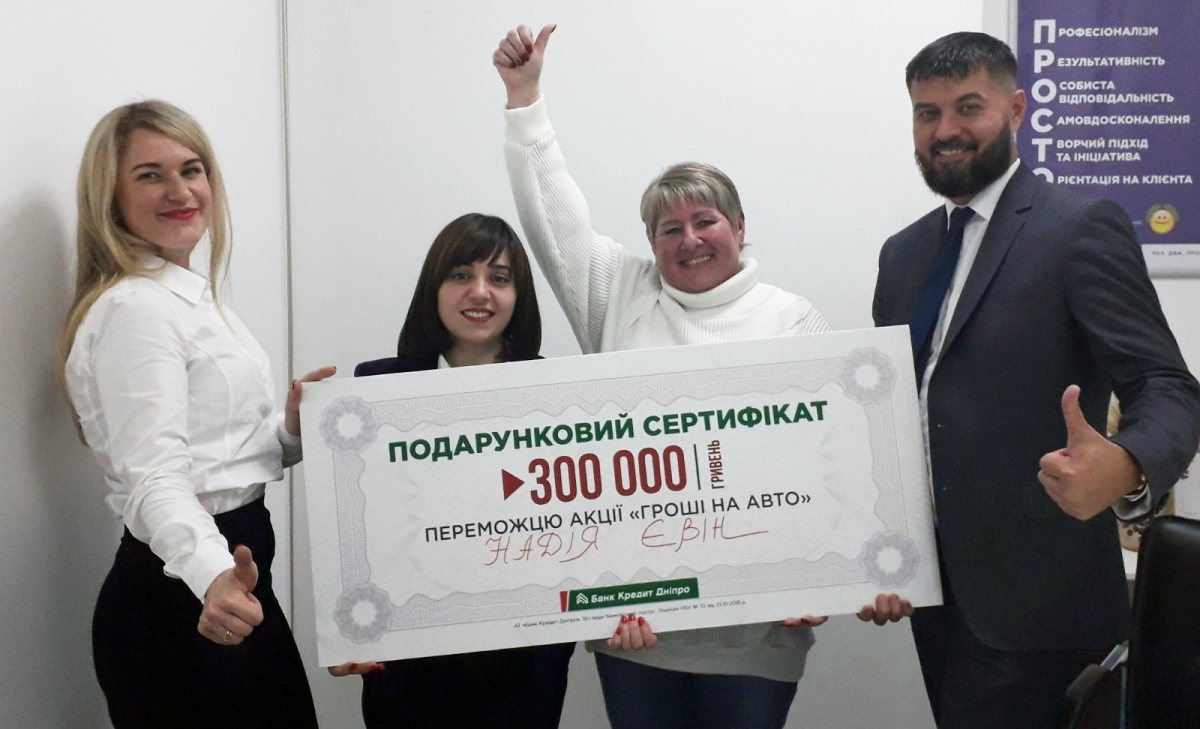 "The geography of the winners of our action is expanding quite naturally, as this time over 500 applicants from different regions of the country from Lviv to Kharkiv competed for the main prize," says Oleg Pakhomov, Deputy Chairman of the Board - Retail Director of Credit Bank Dnipro. - We sincerely congratulate Ms. Nadiya, we wish her the benefit and satisfaction of her. We emphasize that the chances of becoming the next winner of the promotion have increased, as we have extended its validity period until the end of November, due to the increasing interest of clients. Traditionally, every participant of the action will receive a guaranteed nice bonus from the bank. "
To participate in the action it is necessary to issue a cash loan in the amount of 25 to 75 thousand UAH for a period of 24, 36, 48 or 60 months. Existing and new customers from any region of the country can apply for a loan in a convenient way for themselves: by filling out the form on the bank's website, by calling the info center or by contacting any branch of the financial institution. Only a passport and IDN are required to make a loan, no income certificate is required. The client chooses the most convenient term of crediting on his own, the longer the term of the contract implies a smaller amount of monthly payment. The client receives the preliminary decision and payment calculation by phone, and the credit funds themselves - at the nearest branch or information and consulting center, located in all key regions of Ukraine. Simple and easy-to-understand design conditions are tailored to different levels of borrower income. The interest rate is one of the best on the market and depends on the amount and term of the loan. Customers are offered a wide choice of repayment channels: in the FreeBank Internet banking system and through bank terminals, by transferring funds from a card of any bank of Ukraine (P2p payments), using EasyPay, iBox self-service kiosks. The possibility of early payment of credit debt without penalties is provided.
It is also worth noting that in order to encourage the fastest disciplined borrowers at the Credit Dnipro Bank, there is a special offer "Sprint", during which - until November 30, 2019 - clients are offered an annual cash loan in the amount of from 3 to 75 thousand. UAH with the return of fees charged for the use of the loan.
You can find more information about the retail credit offers of the Credit Dnepr Bank at the following link.